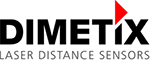 Laser distance sensors
Dimetix has been developing and manufacturing laser distance sensors for more than 10 years. Dimetix aims for the highest possible quality, resulting in unique, accurate long-distance sensors – the solution that provides applications for the most accurate demands for measurement.
Sensors are available from stock, which guarantees the shortest possible delivery times.
Non-contact and non-intrusive laser distance sensors.
Very high performance, very high precision 0.05 m up to 500 m.
Measures up to 65 meters without reflector target.
Measures distance, level, width, diameter, length and height.
Resistant to external conditions. Possibility of chain mounting.

High quality contact less laser distance sensors.
Laser transmitter for level measurement and positioning applications
For intensive industrial usage.
3D monitoring for mine application
Capacity to measure up to 1500 meters.
We aim to provide great customer service. Contact CTH for product inquiries and technical support.