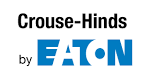 Cooper Crouse-Hinds MTL, Inc. engages in the design and manufacture of surge protection devices.
Barrier and Insulator.
Intrinsic protection.
Overvoltage protector type 1,2 and 3 / Zener barrier and galvanic isolator.
Equipment for fieldbus network.
Radio and Wireless Communication Voltage Peak Suppressors.
We aim to provide great customer service. Contact CTH for product inquiries and technical support.