Description
The Intempco HTX-C01 series humidity/temperature transmitters are designed for use in HVAC energy management. Available in 3 mounting configurations, The HTX01-C01 is for Interior Wall Mount, the HTX02-C01 is for Interior/Exterior Duct Mount, and the HTX03-C01 can be used for Interior/Exterior Wall Mount applications.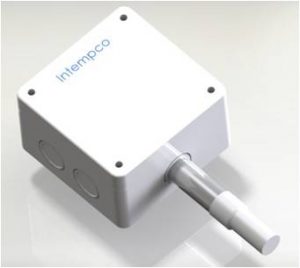 The INTEMPCO HTX series humidity transmitters offer high accuracy, low cost humidity, and temperature measurement that can withstand tough industrial and HVAC applications. The rugged solid state sensor has high chemical contamination resistance and handles extreme ventilation conditions, like swimming pool environments, with ease. Even water immersion of the sensor will not damage it!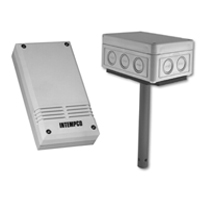 The PHP01 is a Programmable Relative Humidity Probe which provides an accurate analog output directly proportional to 0…100 % RH. Using Intempco's patented MIST Microprocessor Integrated Sensor Transmitter™ technology, PHP01 feature digital zero and span adjustment and can be re-calibrated by the use of PHP01-PKit communication module and software.
The PHP01 shows an excellent linearity and accuracy of ±2 % from 5…95 % RH with two point calibration but units are calibrated to ±3% accuracy. They comes factory calibrated from 0..100% for RH with a standard output of 4…20 mA but 0…1 V or 0…10 V are also available. Optional temperature output, various RTD bulbs or thermistors, is also available.The PHP0 utilizes a thin-film polymer capacitive humidity sensor that provides excellent stability and fast response. The sensor fully recovers from condensation.
The construction of PHP01 is very robust and long asting. The unit is potted and has completely hermetically sealed electronics. There are no accessible parts inside the housing. Three standard models are available: PVC probe only, probe with 3/4" NPT fitting and probe with flange. They come standard with 10 feet of PVC insulated extension cable and dust filter cap made from porous plastic, but sintered stainless cap is also available. For non-standard units, refer to Custom Builder. The compact size, durability and high accuracy makes it ideal choice for all applications that require the monitoring and controlling of humidity and temperature, including a variety of OEM and HVAC applications.